The following is a step-by-step guide to setting up and configuring the account or SMTP type for sending to perform e-campaign mailings in OptimaSales CRM.
1. Go to OptimaSales settings, you will find them in the top right corner, Settings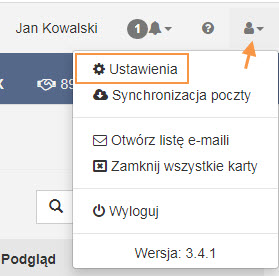 2. After opening the Settings card, on the left, click on Account details (this option can be seen by a user with the appropriate permissions) and select SMTP email configuration.
As you can see there is no such account configured in the table, so this needs to be done. Further on youe will find out how to perform it.

Note:
Access to content only for logged-in users in OptimaSales. Log in and refresh this page. Read more about this
here
...