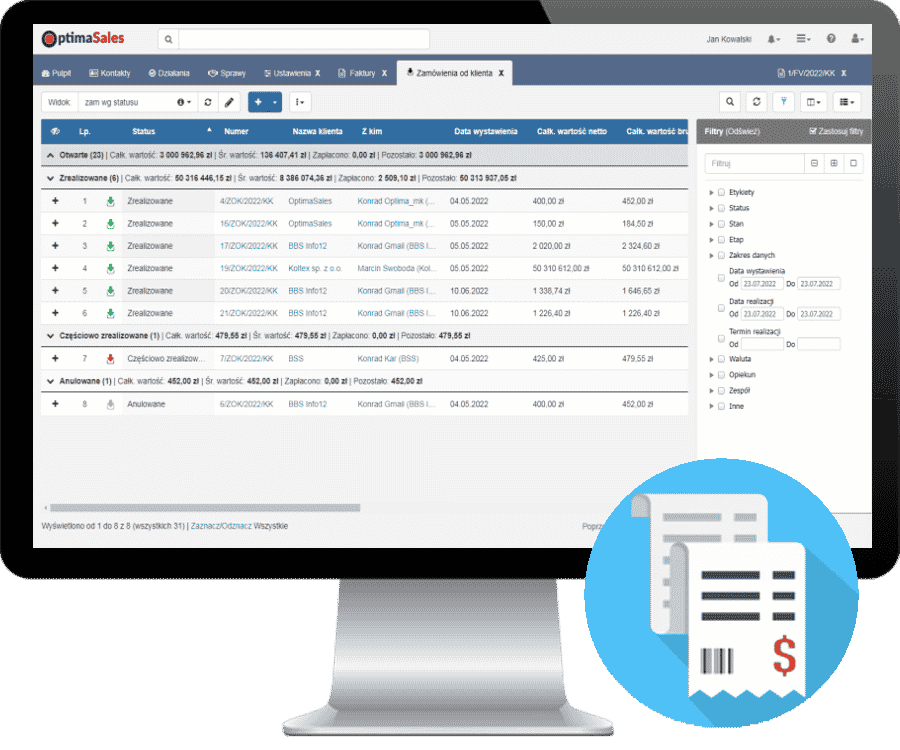 In the OptimaSales CRM software we can now activate the Orders and Invoices module. This means that we do not need to look for any additional program to handle orders and invoices.

The Orders and Invoices module in crm improves the core functionality of OpimaSales, and this positively affects the work of customer service people. They do not have to rewrite data or copy it between programs.


Let's imagine this example of a simple order and invoice workflow in crm.
1. We create a sales offer based on our own entered price lists and product catalogues in OptimaSales CRM.

2. The created sales offer, single or multi-variant with quite a number of items together with descriptions and images, is sent to the customer. The entire operation is carried out directly within crm with automatic recording in the customer card and the deal card.

3. The customer after receiving and reviewing our offer. That we know about, because the OptimaSales CRM system informs us about such things. So we know when and how many times the customer reviewed the offer, which they eventually accepted.

4. After that, our won sales deal, without rewriting its content, we can easily turn it into a Customer Order (CO) or we can create a Proforma Invoice.

5. Once we have a CO, we can create an Order to Supplier (OS) based on it. This will automatically create one or many such OSs with their own numbering, depending on how many suppliers of our products and services were on the Customer Order (CO).

6. From CO, we can then create a Proforma Invoice, Prepayment Invoice or VAT Invoice and send it immediately to the customer or later as a mass, personalised mailing with an attachment to all customers.

7. Furthermore, correction and duplicate invoices can be created, as well as expenses relating to orders to suppliers.

8. All documents can be sent individually or in mass in a personalised way.
What makes work much quicker and easier.
You can see from the example above that OptimaSales CRM effectively supports the processing of orders and invoices.
In addition, it allows them to be easily managed through various filtering options, grouping and the creation of customised lists (data views) to monitor the processing of orders and payments from customers and payments to suppliers.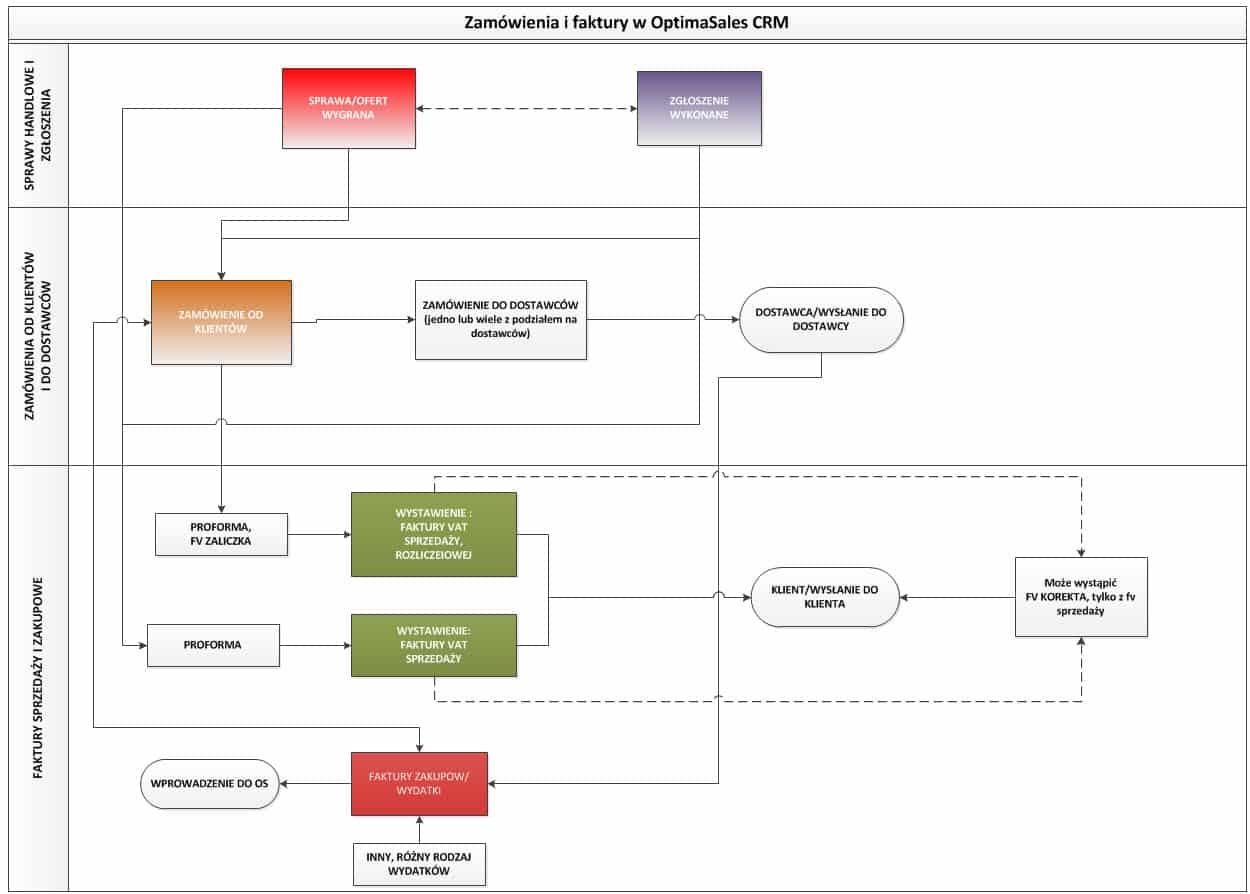 Existing users of the order and invoice modules in crm get full customer information in one program, without it being dispersed among others.
One customer database, one full 360-degree view of the data. For more on the orders and invoices module, please visit this link (only in Polish currently).

If you don't need to read more about it. You are interested in trying it out in practice, then let us know. We provide a free demo trial. Sign up to see if it works for you.

OptimaSales CRM does not only have an orders and invoices module. Our solution allows you to manage pre-sales activities (marketing), during sales, and those important to the customer, post-sales (realisations, deploymentst, technical service, orders and invoices).

Companies are different, but they have similar processes. OptimaSales CRM tries to support this with its flexibility. You can see for whom our solution is for here (only in Polish, currently).